There is literally one week and a couple of days before I have my best friend out here for a whole
TEN
days. To say I'm excited would be a complete understatement!
Today I decided to join in on the fun with
Sunday Social
. Basically it's just a bunch of questions to be answered, so here we go!
1. What are 3 items you can't live without on a daily basis (water, food, shelter, and clothes don't count)?
As sad as it is, my iPhone, coffee, and my Clarisonic Mia 2.
2. What is your all time favorite book? Why?
Harry Potter of course. Because it is basically my entire childhood. And how could you not fall in love with such a creative and imaginative story?
3. What is something you'd like to accomplish before the end of 2013?
I would love to travel outside of the US, but I'm not sure that will happen so I'll say, move into a new, bigger place.
4. If you could go back and relive any year of your life which year would it be?
That's a tough one. Maybe the first year I lived here in Hawaii.
5. What do you wish people knew about you without you having to tell them?
I get down really easily and it's hard sometimes to get back up, that is why I am so reserved sometimes.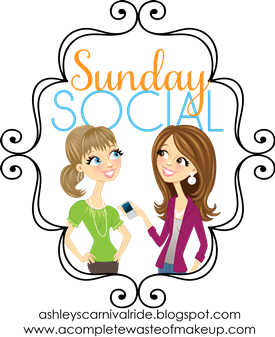 Don't forget to enter this awesome giveaway!