Aloha! Today I'm bringing you part two of my
March Sponsor Showcase
. (Read part one
here
) Continuing with my lovely
Nui Kine
ladies of March. You may have seen some of them around these parts before. I've loved getting to know these ladies and working with them.
With out further ado..
Southern Sunflowers and Coffee Beans
"Spring is a beautiful time of year. I especially enjoy the warm weather that allows me to enjoy the outdoors a lot more than during the winter. My husband and I already have a mini hiking trip planned and are looking forward to it."
"The one thing I love about spring is that you can finally put on some shorts! I always look forward to fall fashion, but let's face it, by the time March rolls around, I am so ready for some shorts and sandals!"
A Southern Transplant
"I love spring for so many reasons! I absolutely hate cold weather, so the thermometer creeping up makes me so happy - it's running season, the beginning of flip flop season, and my birthday comes around in May!"
"I love that everything comes to life in the Spring. I live in the foothills of Salt Lake City so everything is buried under mounds of snow all winter long. The snow starts to melt, the trees start budding, the birds start chirping and the flowers start to pop out. It's the best!"
Stay tuned for parts three and four of my March Sponsor Showcase!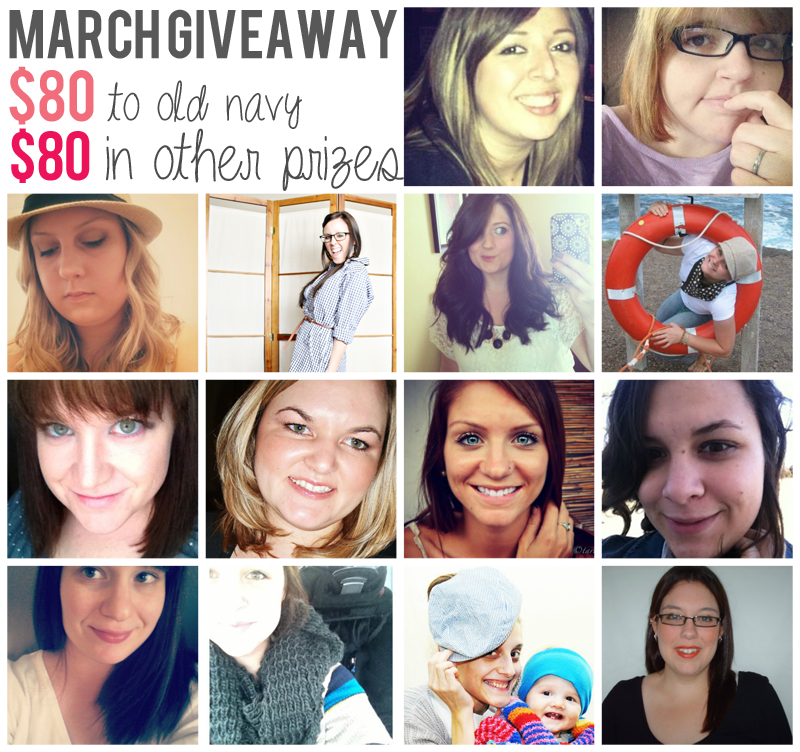 Visit all these lovely ladies & tell them thank you for being so generous! --
One Haole Girl
,
Songbirds + Buttons
,
Life with a Side of Coffee
,
By the Porchlight
,
Crazy Lovely Me
,
Art By Jacy
,
Pickle Doodle Designs
,
Perfectly Jenn
,
Unintentional SAHM
,
Love Emmie
,
K Plus J Equals Love
,
Hayley's World
,
Life in a Breakdown
, and
Sweets & Shutterclicks
!
Giveaway:
- $80 to Old Navy - $30 to
Pickle Doodle Designs
- Infinity scarf of your choice from
Ooh Baby Designs
- 2 months of ad space from
One Haole Girl
- Large ad space from
Life with a Side of Coffee
ALL ENTRIES WILL BE VERIFIED. IF YOU ARE NOT HONEST WITH ONE OF YOUR ENTRIES, ALL OTHERS WILL BE DELETED.
Xoxo,