Happy Hump Day!!
It's Wednesday and you know what that means! Time for another
My Harry Potter Fix
Link Up.
Unfortunately we are saying goodbye to
Erinn
as a host. She has taken the responsible route to focus more on her life and personal content on her blog as a whole - which is admirable. Thank you so much Erinn for your participation in our link up for many weeks, it was a blast to have you!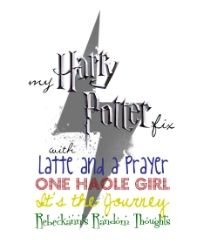 "Love, family, friends, puppies, music, teaching, baking, reading, creating."
1. Please follow all of your hosts and co-hosts. Please & thank you :)
2. Share the button somewhere on your blog and link back with us.
3. Spread the love via Twitter, Facebook, Pinterest, what have you! Help us grow!
4. Check out others' post and comment letting them know you found them via this link up!
5. HAVE FUN!
1. Assuming you were sorted in Harry's year, which character do you think would be your best friend? Why?
I definitely think I would befriend Luna the easiest. Her carefree spirit and crazy thoughts are intriguing to me and I feel like I'd be able to be myself around her.
2. Which season at Hogwarts would be your favorite?
That's a tough one. Growing up in a four season state, I learned to love every season for different reasons. Now that I live on an island, I think Winter would be my favorite. It would be a nice change of scenery from what I'm accustomed to now. :)
3. What class do you think you'd excel in most?
I'd most likely excel at Divination. It would be my favorite subject, so I would actually pay attention to it. Just something about it really grabs my attention!
4. Would you be involved in any extra-curricular activities at Hogwarts?
More than likely. I am pretty athletic and competitive so I would try out for Quidditch. I would always go to Hogsmeade, but I'd have to do more research on other activities to join in on.
What are you answers? I'd love to read them, please join in on the fun! Don't forget to link back and thanks so much to K for co-hosting!
Next Week's Questions
1. Which character would you have liked to have read more about?
2. Is there a character you think was unnecessary in the series?
Don't forget to enter these giveaways!