Happy Hump Day lovers!
It's Wednesday! Which means another edition of
My Harry Potter Fix
:) I love having this wonderful link up mid week. It definitely makes things easier! I hope you join.
This week we are showing off our Harry Potter memorabilia and/or our wish list! Unfortunately I have yet to have any HP gear, so I will be showing you my wish list - hey.. my birthday is
Sunday
:)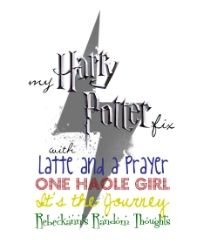 Rules are same as always. Please join
Kim, Erinn, Becky,
and
me
!
On to my wish list for Week 22!
Well there you have it! My longggg but awesome wish list. One of these days I'll have it all :)
Week 23
Next week we will be going back to questions with an awesome theme of
If I were at Hogwarts
submitted by a lovely cohost that will be joining our line up! Here are the questions..
Assuming you were sorted in Harry's year, which character do you think would be your best friend? Why?

Which season at Hogwarts would be your favorite?

What class do you think you'd excel in most?

Would you be involved in any extra-curricular activities at Hogwarts?
Thanks for joining in on our Potterhead-ness :)
Also - Don't forget I'm giving you until March 15th (Friday) to receive
10% off ANY ad size with special code MAO
. All proceeds go towards pageant expenses! Help turn my dream into a reality :)
Xoxo,