Aloha darlings!
I'm back!!
Did ya miss me? Nah I'm just kidding. Boy, do I have a lot to share with y'all. This post is going to be pretty long, but stay put because there are some fun things included :)
I'm so sorry I've neglected in any way. Those were not my intentions at all. I did not have internet this whole past weekend while I was getting some things figured out. But those things are figured out now after finally having a good nights rest, I am so excited to get back into the swing of things.
Weekend Recap
Sunday
I was in a competition with my 4 of my coworkers. It was held at an Irish Pub called the Irish Rose and there were about 5 other teams. It was a preliminary for the finals which will happen early next month. Basically what I had to do was ride around on a tricycle for 5 laps and in between each lap, we had to chug a vodka redbull. It definitely was a sight to see. There are only two racers so naturally me and another one of our small female bartenders were the ones to race on the teeny tiny trikes. We had to make the top three to qualify and we did! So we will be the "Cholos" representing Cha Cha Cha in the finals come March. One thing that's great about this competition, is it's for charity. A wife of a lost cancer fighter will be getting all of the proceeds to help her get back on her feet and pay for all the expenses of dealing with her loss. Awesome!
The Cholos
Monday was another day of no work for me. I finally accomplished my first ever race!
The Great Aloha Run
is an annual race held in February - there were almost 20,000 participants!!! I was a little nervous leading up the start, I haven't been able to keep up my running and work out schedule since things went South on Thursday. Fortunately I had a great running buddy (my manager at Chas) and the whole time I was completely motivated to keep going. I ran the whole 8.15 miles and feeling accomplished is definitely an understatement. I can't express enough how much I loved it and can't wait to do another. I finished around 1:20 and my pace time was under 10 minutes per mile which was my goal. I am so happy I put myself to the challenge and came out on top. Finishing as the 1,000 female out of over 9,500. I think that's a pretty good spot and am so proud of myself for doing so well on my first race. I am already signed up for a 10k next month :)
Hilary, my running buddy the whole way. Thanks for keeping my motivated!
Mike came to watch me cross the finish line :) My number 1 fan.
****************************************************************************************************************************
Another fun thing that happened on Monday,
Logan
and I welcome two co-hosts for our weekly
Monday Mingling
:)
Welcome to the third week of Monday Mingling! We had over 80 people link-ups last week! How awesome! I hope you will join us again and link-up below.
As we mentioned last week, we have started offering a co-host option. Due to an overwhelming response, we have co-hosts set up for the next
8 weeks
! Please introduce yourself to our first two ladies and be sure to follow their blogs!
Amanda @ My Show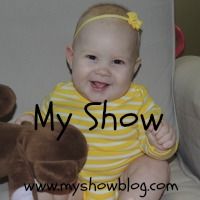 Blog
|
Twitter
|
Facebook
|
Pinterest
I'm Amanda, I blog at My Show. My blog is all about life as a teacher, wife and mom. It tends to be random and focus on everything going on in my life.
Sierra @ Oh, Just Living the Dream
Blog
|
Twitter
|
Facebook
|
Pinterest
| Instagram
I am a turn-off-the-alarm-7-times person in the morning, a 4th Grade teacher by day, and an avid movie lover by night. I love to travel the world and teach! So far I have been to Kenya, Mexico, Puerto Rico, Fiji and Hawaii with many more travels on the way! I blog about the inner workings of life--love, heartbreak, God, teaching, family, traveling, and just life in general!
1. Follow both of your hosts via GFC.
(first 2 links below)

2. Follow both of your co-hosts via GFC
(next 2 links)
3. Link up your main blog URL, not a specific post.
4. Link back to us by grabbing our button.
5. Tweet, Facebook, and Pin this blog hop. The more you spread the word the more people will link up, and the more success you will have!
Tweet
6. Be sure to visit other blogs! Don't just link up and wait for others to find you.
Let's get this party started!!...
I'm so excited about how our little blog hop has taken off and it's all because of you lovely readers! Thanks so much :)
Stay tuned for tonight (or tomorrow) there's an awesome giveaway coming your way from yours truly and my amazing sidebar ladies!!!
Thanks so much for sticking by me through my down time - I must say, I am one lucky girl to have loyal readers like you!!
Xoxo,