Aloha darlings!
Happy Hump Day.
This day has become a favorite of mine now, simply because of our weekly link up...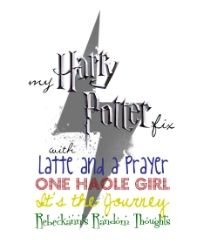 That's right, we've moved to Wednesdays! Excited much? I am! We now will be open Wed-Sun so you'll have plenty of time to join in on the Potterness!
Monday we wished Ashley a farewell and welcome Becky with open arms to our line up of hosts!
With that said...
Please join Kim, Erinn, Becky, and myself for My Harry Potter Fix Week 18!
Follow your hosts! :D
If you are interested in co-hosting or wish to submit a question/theme please fill out this form!
On the the questions!
1.If you could be any Harry Potter character, which one would you be, and why?
With so many characters throughout the series, it is SO hard to choose just one! Hermoine obviously. I mean how could you not want to be her? Beauty, brains, and not to mention her bravery. Luna - quirky, smart, plus I think she's the closest one in personality to me. Wait a minute, doesn't she end up with Neville?? Yes please :). Tonks - I really just think it's cool she can change her appearance so easily. Ginny.. I mean for one she's a Weasley. How cool is that? And two she marries Harry.. The Chosen One.. am I making sense here?
2. Favorite single chapter in a Harry Potter book?
What a tough one. But I have to say The Prince's Tale, Chapter 33 in Deathly Hallows. Snape is one of my all time favorite characters. It give explanations for so much of the entire story. It's such an emotional and beautiful story. How could anyone be a fan of the series and not have this chapter at the top of their list!
Although I'm sure The Prince's Tale is at the top of most readers list, one chapter I have always loved is Chapter 12 in The Sorcerer's Stone. The chapter when Harry receives his Invisibility Cloak. My favorite part is when he stumbles upon the Mirror of Erised and see's his family for the first time. It's such a beautiful moment. It also is the chapter that holds my most favorite quote in the entire series :)
3. What would your ideal class schedule at Hogwarts look like?
Definitely Divination. Followed by Care of Magical Creatures, Charms, Potions, History of Magic, Defense Against the Dark Arts, Astronomy, and Flying :) I may need a time-turner to manage my schedule at Hogwarts!
I would've actually paid attention in class if it looked like this!
Well there you have it for week 18! Be sure to join us by adding your URL to the linkup below. :)
Next Wednesday we'll be linking up our favorite Harry Potter themed or inspired pins from Pinterest - it's going to be an edition of the linkup that you won't want to miss!
Xoxo,