Aloha darlings!
It's Monday, and usually we'd be doing our weekly link up of My Harry Potter Fix - but there a few changes in the works. This week is bittersweet for me - my dear friend
Ashley
is leaving us.
Ashley is the one who started this link up several months ago. She did such a great job with it and I've had SO much fun getting to know other Potterheads like myself and being able to discuss my love for the series on a weekly basis. Ashley has become one of my best friends simply for this reason (and many more). I'm SO sad to see her go but am super excited about the changes coming. For all of you who consistently link up with us, help me in wishing Ashley a warm farewell to the link up! We'll make you proud girlfriend by keeping it alive for ya! Xoxoxoxo
(Don't forget to enter her $100 GC giveaway going on RIGHT NOW!)
Moving on..
My Harry Potter Fix is getting a sort of make-over.
Kim, Erinn
and
myself
want to welcome
Becky
to the line up of hosts! We are very excited to have her and know she will continue to help hold the fort down.
We are changing the link up date to
Wednesdays
! Hopefully this will be easier for all of us to join in. We'll already be halfway into the week and into our blogging grooves so I'm thinking it will help make the link up shine! It will still be open for most of the week - so you can join in anywhere from Wednesday to Sunday! I really hope you join in!
With that said, grab our
brand new button
that links back to our posts of the Harry Potter greatness in the blog world!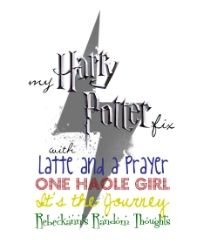 Planning on linking up with us this Wednesday? Here are the questions for Week 18!
1. If you could be any Harry Potter character, which one would you be, and why?
2. Favorite single chapter in a Harry Potter book?
3. What would your ideal class schedule at Hogwarts look like?
Can't wait to see what your answers are! Join us in two days and don't forget to help us say farewell to
Ashley
! After all, she is the reason we have this wonderful link up every week!
Xoxo,