It's Sunday Funday! And I'm actually getting to enjoy it :)
I have today off and the boys and I are going to the North Shore to watch the Pipe Masters surf contest.
But before then (well at least while the boys are still sleeping) I am linking up again with
Neely
and
Ashley
for the Sunday Social!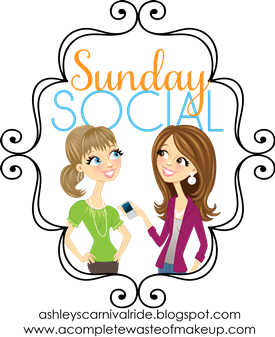 This week's questions!
1. Favorite Holiday Movies/TV Specials?
There are so many that I love! The Victoria Secret Fashion Show that happens once a year, the 25 Days of Christmas on ABC Family, all of the Christmas episodes in the TV show series. I just love this time of year :)
2. Do you do any volunteering during the holidays if so what? If not what would you do?
I'm sad to say I haven't in a while, but a few years back I helped raise donated non-perishable items and used them as stocking stuffers to send to troops over seas in Iraq and Afghanistan!
3. Favorite toy received as a child for the holidays?
Boy this makes me think, I loved getting dolls (as creepy as that is) and there was this one doll that talked about all kinds of things but I specifically remember her mispronouncing "spaghetti".
4. What was your must have item in high school for the holidays?
Most definitaly a North Face jacket!
5. Item you begged for the most and never got?
When I was a little girl, I always, always wanted a pair of shoes that lit up when you walked (you know what I'm talking about) and I never, ever got them - still to this day :'(
6. What do you do on Christmas Eve? If you are Jewish what does your family do for Hanukkah?
Every year on Christmas Eve, we all gather around my dad while he sits in his recliner and read to us "Twas The Night Before Christmas". Then we set out the milk and cookies for Santa and head to bed!
Your turn! Link up so I can read your answers too :)
DON'T FORGET!
Ricci's December Sponsor Giveaway
Happy Sunday!
Xoxo,