Sunday funday!
I'm linking up again with
Neely
and
Ashley
for The Sunday Social :)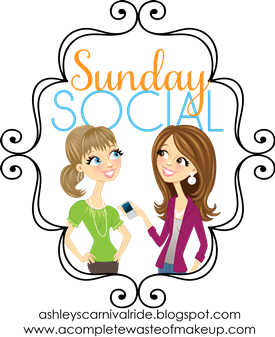 Let's get the the questions shall we?
1. What is your favorite Holiday season tradition?
Every Christmas Eve since I was teeny tiny my dad reads to us "Twas The Night Before Christmas" and then we set out cookies and milk for Santa before going to bed. Obviously we're a little older for than now, but there are new babies in the family so I'm sure my dad won't mind continuing to do it :)
2. Do you have a certain Holiday movie you watch more than others? If so what is it?
With the boys, with my family, it's always National Lampoon's Christmas Vacation. It's always a favorite of ours and really gets us in the spirit :)
3. Show us your favorite decoration or pinterest decoration you wish you could have on your tree this year:
4. Favorite Holiday song?
Definitely "All I Want For Christmas Is You". But I like both Mariah Carey and Vince Vance versions
5. Favorite Holiday dessert?
You can't honestly expect me to be able to answer this right? Since every single on of my teeth are a sweet tooth, I can't really say I have a favorite. But boy, do I LOVE those cookies my mom makes every year!
6. What is on your wish list this year?
Welp, I'd really love a MacBook Pro :) Butttt since I may have to wait for April to get one, I really want the Harry Potter Cook Book - oh and giftcards will suffice!
Well that was fun wasn't it? :)
Jessica's Giveaway
Stephanie's Giveaway
Xoxo,